Franchise Business Review Puts Fibrenew At The Top in 2021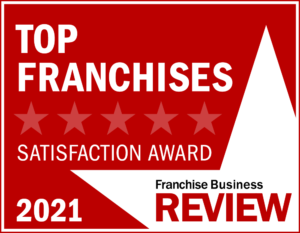 According to the research data from Franchise Business Review, Fibrenew is one of the best franchise business opportunities to invest in for 2021!
Each year, Franchise Business Review independently surveys our Franchise Partners to ask them about their feedback and satisfaction level with many key areas of the business. Our franchisees' feedback has earned us a Top Franchisee Satisfaction Award for 4 consecutive years.
The most recent survey research data showed satisfaction levels of:
84% with Training and Support
87% with Products and Services
85% with Innovation
86% with Team Culture
87% with Level of Trust
90% with Level of Respect
89% with Level of Honesty & Integrity
86% with Overall Enjoyment 
90% of Franchisees Recommend the Business to Others
Fibrenew was also listed as a top-ranked franchise in many categories: 
From the data among the 300+ franchise concepts that Franchise Business Review analyzed, Fibrenew was ranked among the top in many key categories including:
Top Overall Franchise
Top Recession-Proof Franchise
Top Home-Based Franchise
Top Franchises for Veterans
Top Low-Cost Franchise
Franchise Rock Star
Top Franchises for Culture
When stacked up against other franchise concepts, Fibrenew shines: 
Franchise Business Review collects data on over 300 franchise business concepts each year and aggregates the research data from various categories into 'Benchmarks'. When compared to other franchise businesses, the data found that Fibrenew rose to the top in many categories:
Training and Support

:


Fibrenew: 84%

vs. FBR Benchmark: 61%

Franchise System

:


Fibrenew: 80%

vs. FBR Benchmark: 66%

Leadership

:


Fibrenew 80%

vs. FBR Benchmark: 71%

Core Values

:


Fibrenew 89%

vs. FBR Benchmark: 79%

Franchise Community

:


Fibrenew 83%

vs. FBR Benchmark: 76%
Interested in seeing the full report on Fibrenew?
Not all franchise systems share their results publicly. We do as we have nothing to hide. If you wish to see unfiltered feedback and comments from Fibrenew franchise owners about our systems, products, services, leadership, and culture, click here to download the full report.