ULTIMATE LEATHER CLEANER & PROTECTOR CARE KIT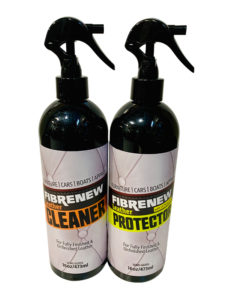 Fibrenew's professional-grade Leather Cleaner and Protector is the ultimate in leather care. It's designed to be used on leather furniture, car seats, boat and RV interiors, boots, purses and jackets to prolong the life of leather and keep it feeling and looking healthy.
Now with UV protection and a spicy and refreshing 'new leather' scent!
Easy to use with the provided trigger sprayer. Just spray and apply!

Step 1: Use Fibrenew's Leather Cleaner to safely remove dirt, oil, and other residues that cause damage over time
Step 2: Use Fibrenew's Leather Protector to provide UV blocking that will help protect leather from fading, drying and cracking. This also prevents dirt and oil from getting into the grain of your leather
With on-going care and maintenance, the result will be leather that's longer lasting, softer to the touch, and better looking than neglected leather

Recommended repeat use every 4-6 months

Do not use on suede or nubuck leather

Non-toxic! Child & pet-friendly!
Made in North America
Leather Cleaning & Protection How To Video
Purchase a Fibrenew Care Kit Today!
There are 2 ways to order a Fibrenew Leather and/or Plastic & Vinyl Care Kit:
1) Contact a local Fibrenew partner. City or zip code search here
2) Purchase securely online below. (US & Canada only)
[product_page id="6199″]
[product_page id="8296″]
[product_page id="6284″]
[product_page id="8289″]