After Leaving Corporate America, The Sky's The Limit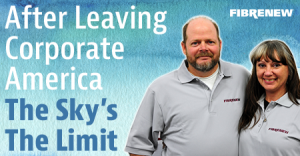 That's exactly how Mike Ozmon sees the potential with the new business venture he started with his wife Kristin: Fibrenew South Knoxville. He's a recent graduate of the leather, plastic and vinyl restoration company's extensive training program in Calgary, and has been working diligently at establishing his franchise as market leader in the Knoxville area. Prior to becoming a Fibrenew franchisee, Ozmon invested years with a national communications company, working positions from technician to maintenance. But something was missing. "Corporate America has changed so much that it seemed everywhere I went I was just a number, completely expendable," he explains. "I was determined to secure the future for my wife and I and have more leeway in which direction we're going."
Ozmon has already set up his day-to-day operations with the precision of a seasoned business owner. He regularly works on the Fibrenew Apprenticeship Program Training each morning before heading out for face-to-face calls with new and potential clients. When he's back in the office he's researching prospects in the area who will benefit from his specialized services in repairing and restoring leather, plastic and vinyl products.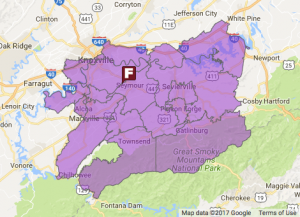 With a large market share (Chattanooga and Memphis being two to three hours away in either direction) Ozmon sees nothing but potential for his new enterprise. "McGhee Tyson airport is fairly large, and we have four or five smaller airports in the area," he says. "And boating galore — we have lots of lakes, the Tennessee River and Douglas Lake, so lots of potential with marinas in the spring." To add to Ozmon's growing list of potential air and marine clients are the numerous medical and commercial operations in the vicinity.
Right now, Ozmon is preparing Fibrenew South Knoxville for exponential growth, and has forecasted his wife, Kristin, to soon join the team full time as office manager, freeing up more face-to-face contact for Ozmon and their clients.

Graduating from the Fibrenew Training Program has been essential to his early success. During his time spent with other franchisee owners and the head office veterans, Ozmon notes, "Watching people who have been doing this for years — Jeff, Dan and Chad — showing you right in front of your eyes, they're such masters of the art! It's amazing to see the process from start to finish." Although admitting the program was intense, Ozmon took away important lessons and has applied them to his business's performance. In fact, in his early stages he's already secured large contracts with a regional furniture company and local luxury retreat because of the precise skill he learned and one-of-a-kind techniques that cannot be replicated by any other company.

"It's been non-stop since I got back from Calgary!" he laughs. But he's not complaining: Ozmon admits he's excited to be part of a global franchise that, in his words, demonstrates togetherness. Fibrenew head office assists each franchisee with not only the opening of their business, but support in later years as well. "The calls with all the Fibrenewers each month, that's huge!" says Ozmon. "It's like a family. I still talk to Bill Metropol from Fibrenew Marietta who I did my ride day with on a regular basis and bounce ideas off of him. There's overall support, with everybody helping everybody."
With Fibrenew, Mike Ozmon is definitely not feeling like 'just another number' anymore.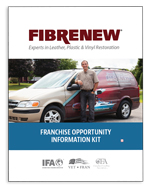 Are you looking for a new career where you can be your own boss and take charge of your financial future? Fill out the form below to download a PDF Information Package and learn more.
Our promise: no high pressure sales calls, just the info you want.
Fibrenew respects your privacy. We may contact you with further info about our franchise opportunity but we will not sell or distribute your personal info to a 3rd party. 
Comments: