Do not use olive oil to fix your leather!
With dry, dirty or scratched leather, you may find yourself scouring the internet for DIY treatments. Many articles cite olive oil as a cure-all for every leather ailment, from scratches to dryness to odors. It is likely that this myth came from the age old practice of oiling baseball gloves and horse saddles.  Oil may have its perks in functionality for those purposes, but we strongly discourage using any type of oil on your fine leathers.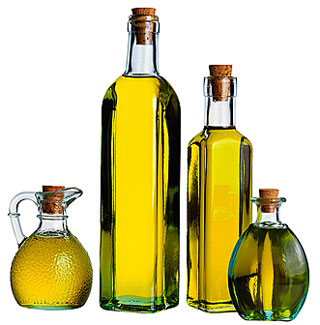 Although leather does indeed become a little suppler after applying olive oil, this instant gratification comes with a price. Olive oil, and every oily substance for that matter, will not "nourish" your leather, but actually accelerate its deterioration.
Leather is extremely permeable, and will soak up any oils you put on it. When oil first saturates leather, it seeps to the back—to the part you can't see. Eventually, the oil ends up spreading throughout the leather and naturally resurfaces. Once this happens, your leather will have unsightly oil spots.
Because oil sits deep within the leather, it cannot be removed with any cleaner available to the general public.  A professional can give your leather a deep cleaning to get out most of the oil.  However, it is infrequent that even a professional can truly remove the problem entirely.
Additionally, oil-saturated leather will give off a salad-like scent, meaning that it won't work to ward off existing odors.
Whenever you use olive oil to treat a leather problem, you will always be trading instant gratification with the long-term health of your leather.
For leather treatments, don't always trust what you read on the internet. Stick to products designed especially for leather or take your leather to a professional. The quick, cheap olive oil "fix" renders a much higher cost in the end.
For more information, check out this post on dirt and oil damage to leather.
Comments: