Do not use shoe polish on leather upholstery
It is a common mistake to use shoe polish on leather upholstery.  People try to use it on furniture and on their leather car seats, but it doesn't work.
The leather used in upholstery is tanned differently from the leather in shoes.  It does not soak up shoe polish like shoes do, so the polish will just sit on the surface of your leather and make a sticky mess.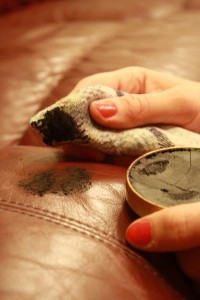 Depending on the type of damage, you may have a number of other alternatives.  Professional leather repair experts can usually fix scuffed, faded, torn or otherwise damaged leather for a fraction of the cost of replacing or reupholstering furniture and auto seats.
There are a number of other home remedies and wives' tales about using home products on leather.  We do not advise using the following:
Beeswax
Hair spray
Markers
Window cleaner
Finger nail polish remover
Disposable cleaning supplies and wipes
Questions or experiences with shoe polish?  Post them in the comments!
Comments: